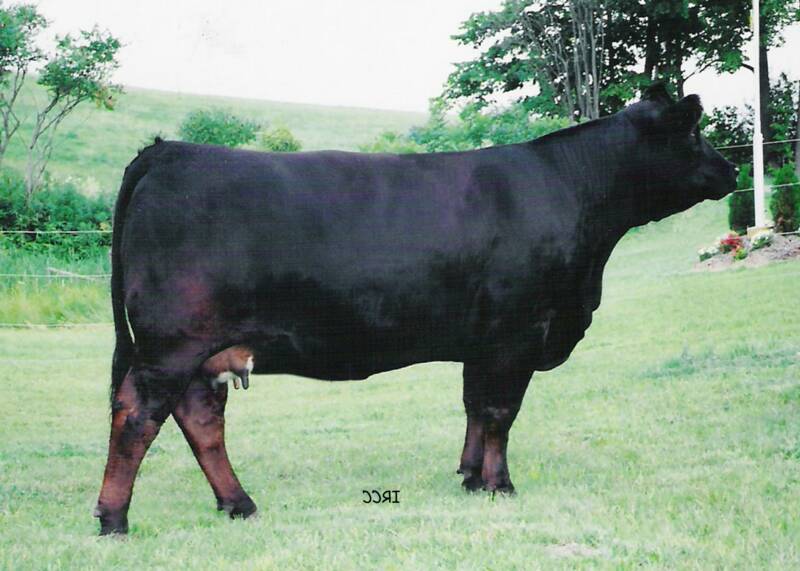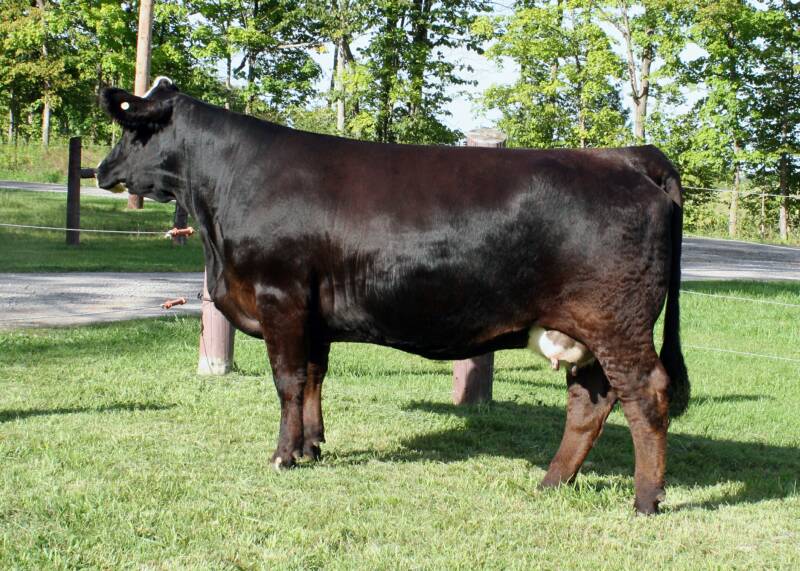 The Girls in the Pasture!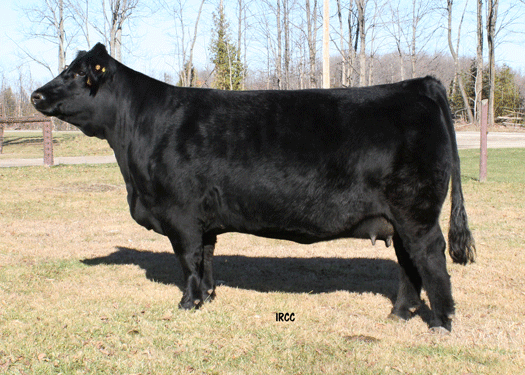 Dream On X  JDJ Nova

2008 Royal Futurity Champion

2008 Royal Calf Cahampion and Reserve Grand

2009 Royal Class Winner

2010 Reserve Senior Champion Female

The most recognizable female at IRCC and maybe in eastern Canada she has been the dominant force in showrings for 3 consecutive years. Near perfect in her design from her structure, dimension, udder attachment and ground work to her stunning "LOOK" and presence in the ring and on grass. The kind we would like to have more of and already raising look alikes as her 2010 heifer calf was also the 2010 Royal Futurity Champion. Bred to Hooks Infinity and then destined for the donor pen.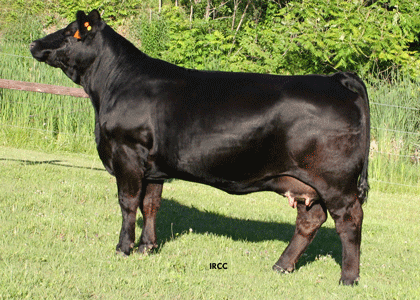 IRCC Storm (Red Sky) x PCC Nite Moves

This past show heifer was competitive in the ring and now excells at motherhood. Born in April she weighed 868lbs in November at the Royal as a calf and transmits that same power to her offspring. Her first calf by Star Power calved in January making her 21 months old weighed 1110lbs in November. Extra muscle shape here with a wicked udder.

Owned with John Robinson

BAR CK VISION 227P X Branded Beef

A promising young cow that is picked out by many on pasture tours. Her baldie face is just a bonus on a crisp lined, angular fronted female with buckets of milk in a nice carton. Watch for her in the future as she is mated to Superior for 2011.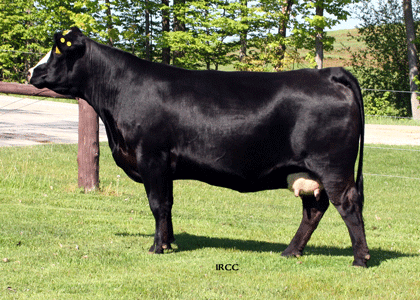 PCC Nite Moves X  JDJ Nova

2004 Royal Class Winner

2005 Jr Champion Female NABC

This beautiful blaze faced cow is consistent in production and does it with style. Her greatest effort was producing the herdbull Sandman who was twice the Royal Champion Bull and has inturn sired 2 Royal Reserve Champion Bulls. Solid genetics here with unmatched udder attachment and teat size.

PCC NITE MOVES X BBS ZIMA

Dam of two herdbulls that have walked our pastures she is the absolute power cow in the herd. She consistently packs more pounds onto her offspring than most any cow on the place. Watch for her 2010 Powerline Bull calf in our spring bull sale as a feature lot and stay tuned for her 2011 model by Star Power.

ON TARGET X DYNAMITE BLACK

2010 Royal Junior and Reserve Grand Champion

2010 Agribition Class winner

2010 Youth Forum Champion

2009 Wild Rose Classic Champion

One of the winningest females in modern history she has been popular where ever she travels. Extra dimension and shape accompany a pleasing profile with that sought after blaze. We look forward to her Trademark baby early in 2011 and plan to multiply off her in the coming years.

Owned with Black River Cattle Company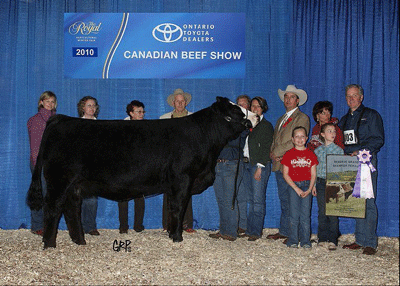 HC HUMMER X DREAM ON

2009 Royal Futurity Champion

2010 Youth Forum Reserve Champion

2010 Royal Class Winner

A farm favorite especially with the kids because of her great personality. Super soft made and huge middled with termendous bone quality and soundness. We expect her best is yet to come.

Owned with Black River Cattle Company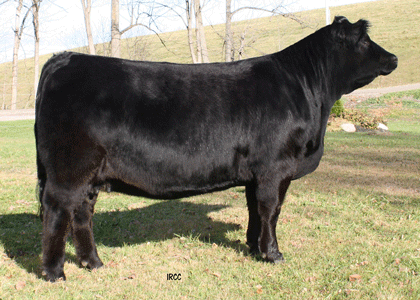 IRCC TOMAHAWK 706T X  RED SKY

Supreme Champion Female Fenelon Falls Fair

Probably the very best female we've had to date that hasn't hit a homerun at a major show. Maybe because she is so different than the competition being freaky fronted, extremely long and oh so sweet. We'll try our darndest to make more like this one. Her hard working dam mothered the Reserve Bull in Toronto as a two year old and 2 awesome heifers next. Study the picture and get a handle on the IRCC kind.

Owned with John Robinson.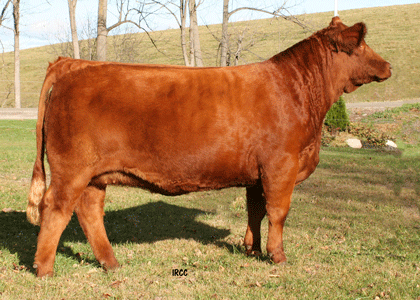 JDJ Nova X  Marshal (RED DASH)

2005 NABC Class Winner

2006 NABC Junior and Reserve Grand Female

2006 Royal Junior Champion

2006 Royal Jr Heifer Show Champion

The biggest bodied breediest cow on the place, that adds quality and mass each and everytime. A winner on numerous occasions she was unbeaten as a yearling under a variety of judges from different schools of thought.The dam of the True Love female (see below) and numerous other contenders we can't wait to calf her Built Right twin heifers in 2011 and have high hopes for her 2010 fancy March heifer.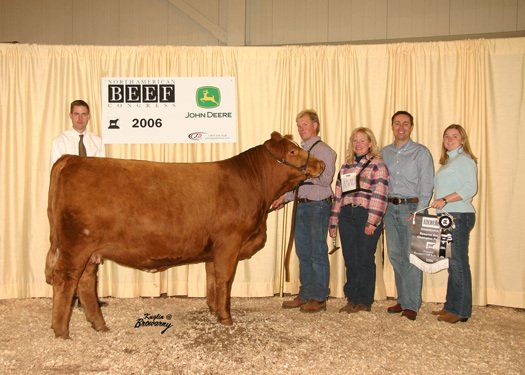 Dream On X  JDJ Nova

2007 NABC Reserve Calf Champion

2007 Royal Calf Champion

A favorite of many as a calf on the show road we had a fight on show day as our fitters gravitated to her chute. As sexy as she was as a baby even as she ages her ability to raise one is attractive. Her first son was the first to sell and her second calf won her class at 7 shows to carry on her dams winning tradition.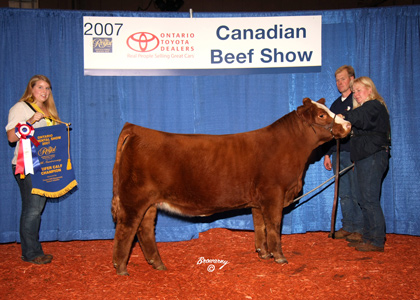 RAPID FIRE  X  PCC NITE MOVES

2004 Royal Calf  Champion and Reserve Grand

This is the cow. She can do it all; show winnings,  one time AI services, fat calf raising, condition keeping, herdbull mother and money maker. She needs to be flushed and may be soon because this is as close to ideal as we get. She is the dam of the impact sire Tomahawk who was a winner at the NABC, Royal and Agribition. and now resides at Jarvis Simmentals.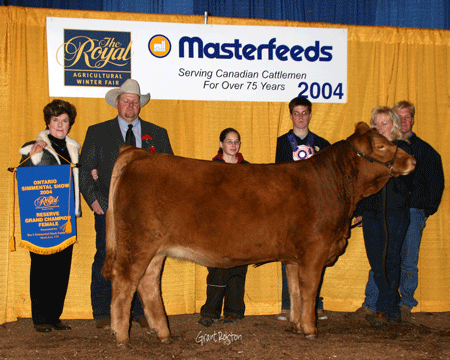 LIFELINE (Zima) X Bar 5 General

2005 NABC Cow/Calf Champion

2006 Royal Reserve Sr. Champion

One of the biggest, stoutest cows in the mix as you could expect from her genetic makeup. Extra bone, shape and sheer power are traits of her offspring and she is most renowned for her sons in the bull pen.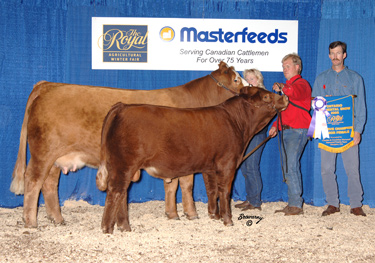 FVFR RED SKY  X  RED QUORUM

One of the oldest RED SKY  daughters in production and one with an incredible udder with pinky size teats. Easy fleshing and easy going she was a past show heifer that spent little time in the show barn on feed. Already the dam of a couple of competitive show heifers shes one of the many Red Sky daughters mated to our new red Top Gun brought in from Czechmate to power up these beautiful milky females.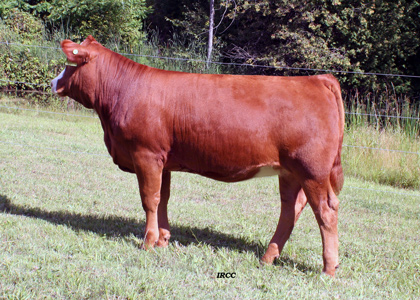 HART SUB ZERO X  SPRINGCREEK WARREN

2005 NABC Reserve Calf Champion

2006 NABC Senior Yearling Champion

2006 Royal Jr Show Class Winner

Another one of our black baldie females that is very prolific. After a very successful show career she has been busy raising top end commercial bulls. Destined to raise us that next great blaze face show heifer.

Owned with Lanesfield Simmentals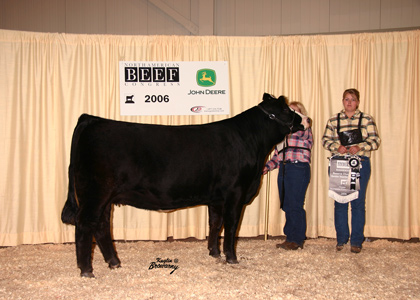 BBS ZIMA  X  RR BAR MAC

The first red Simmental landed at IRCC and we've never looked back. Typical of  the first cross and also of the Zima progeny she is extremely robust, sound and most importantly very breedy. She'll trickle through a lot of the pedigrees here and is still going strong. Foundation cow at IRCC.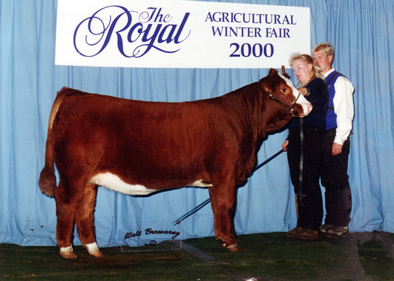 BBS ZIMA  X  DEK POLLED QUASAR

Its still hard to comprehend the influence this cow has had on our cowherd with 10 of her descendants calving this year. Always one of the first to calf and then catch back, she is problem free, low maintenace, profitable and one really good reason we have decided to breed red and black Simmentals. Her 2008 was a popular class winner at Agribition and is now a donor at Wild Oak. This is "The Factory".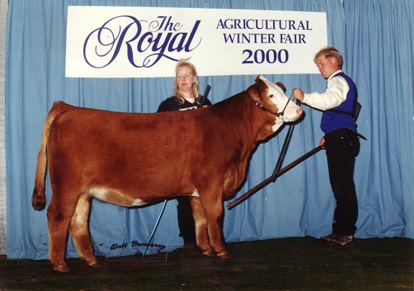 BUILT RIGHT  X  PCC NITE MOVES

2010 OYCS Classic Champion Female

2010 Beachburg Fair $1000 Supreme Champion

2010 Royal Class Winner & Reserve Junior Champ

Admired by many breeders from all breeds for her exquisite design and superior "LOOK" we actually ended up partnering with the prominent Limo outfit, Koyle Farms on this one of a kind. Chisel fronted, round ribbed, long spined and damn pretty we expect her to excel at motherhood. Her dam is a consistent producer and the backbone of our major cow family. She is carrying an interesting Hooks Infinity calf and a recent meeting of the minds set up plans for a future flush to 680S.

Owned with Koyle Farms